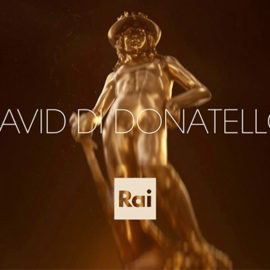 21 June 2018

•

Snap Italy
David di Donatello 2018, the best Italian productions
READ ME IN

Italiano
«The David di Donatello 2018 prize returns to Rai Uno, on Wednesday 21 March, with many new features. Let's find out more, by reviewing the odds related to the major prizes »
Here comes the new edition of the David di Donatello 2018, which this year, after two years on Sky, see his first return to Rai, under the guidance of Carlo Conti, who will be at the helm of the event for the third time.
«I am very happy to return to conduct the David di Donatello. For me it is the third time and I hope to live up to it. it Will be a great event and a celebration of italian cinema.»
Carlo Conti
The 62nd edition of the "Italian Oscar" will give the most coveted awards and prizes of cinema, but first we need to take a small step back, telling you about the history of the David di Donatello: the prize was born in 1953, when the Committee for Art and Culture, together with the International Film Circle, have always given growing importance to the world of the camera. As for the Oscars in Hollywood, the David has also become a prestigious recognition, thanks to the beautiful statue of David sculpted in Florence by Donatello and reproduced in gold by Bulgari. And now let's get back to the present, talking about the nominations of the David di Donatello 2018: the Manetti brothers, for example, with Ammore e malavita reached 15 nominations including best film, best director, best actor and best supporting actress, respectively to Carlo Buccirosso and Claudia Gerini, in addition to the many technical nominations.
«We thought we were going to be nominated for the music and special effects, the two categories for which our films are usually nominated, and instead we had this!»
Marco Manetti
Alessandro Borghi received a double nomination for the David di Donatello 2018: as Best Supporting Actor for Fortunata, where he will compete with Elio Germano for La tenerezza, Peppe Barra for Napoli Velata and Giuliano Montaldo for Tutto quello che vuoi; he was also nominated for Best Leading Actor in Napoli Velata, where he will compete against Antonio Albanese for Come un gatto in tangenziale, Nicola Nocella for Easy – Un viaggio facile facile and Valerio Mastrandrea for The Place.
The five candidates for Best Actress in the David are Paola Cortellesi, for Come un gatto in tangenziale, Jasmine Trinca for Fortunata, Valeria Golino for ll colore nascosto delle cose, Giovanna Mezzogiorno for Napoli Velata and Isabella Ragonese for Sole cuore amore. While the candidates for Best supporting Actresses: Sonia Bergamasco for Come un gatto in tangenziale, Micaela Ramazzotti for La tenerezza, Anna Bonaiuto for Napoli Velata, Giulia Lazzarini for The Place.
Other David di Donatello 2018 nominations are 11 for veiled Naples, 8 for La tenerezza, 6 including the one for Best Film for Nico 1988 and for The Place by Paolo Genovese, which also won the Best Director award. 7 nominations instead go to Ciambra and Gatta Cinderella, an animated film nominated for the first time in history as Best Fil , which will clash with Laa Tenerezza by Gianni Amelio and Ammore and Malavita.
A little Curiosity: the David di Donatello 2018 awards have not yet begun, but they are already the objects of controversy. An example is that of Ficarra and Picone, who decided not to bring their nominated comedy Summer time, one of the most successful Italian films: " Already for three years we have decided to renounce the role of jurors of the Academy of David di Donatello 2018, since we are not in line with the event's voting method. Therefore, for consistency, we did not register Daylight Saving Time for this year's competition … »
Argia Renda
READ ME IN

Italiano