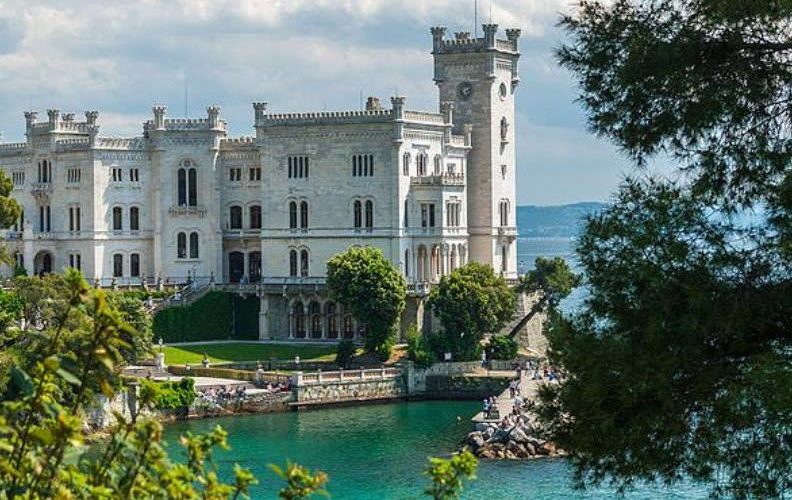 02 July 2018

•

Redazione
Best castles in Italy: top 5 must-see castles in a fairytale-like Italy
READ ME IN

Italiano
«Here is a list of 5 of the best castles in Italy, wonderful places that will immerse you in an enchanted world.»

Today we want to take care of the best castles in Italy, small jewels of our country that enrich its already immense artistic heritage. From North to South, even if some are little known, there are many different kinds: some elegant, others more Spartan, others immersed in the green of the mountains or others still overlooking the sea. In this article we have selected the 5 most beautiful and peculiar castles, which will take you to a fabulous world, in the true sense of the word.
Miramare Castle in Trieste
This marvelous castle stands on the promontory of Grignano, and although it is in one of the northernmost cities of our country, it overlooks the sea, as you can easily guess from its name. It was built in the mid-19th century by the will of Maximilian of Habsburg, and is a real fairytale castle: its interior is luxurious and is preceded by the beautiful Miramare Park. This garden, always built by the will of Massimiliano, is unique in its kind, full of very rare plants, some even imported overseas.
You will be amazed at how in this castle the North-European tradition is based on the Mediterranean, creating a truly fabulous environment. If you want to feel like kings and queens for a day, you're lucky! The castle has been used as a museum and even the spectacular park can be visited at any time of the year. All the info can be found here.
–

Sammezzano Castle in Regello
In the province of Florence stands this very special castle, one of the few extraordinary examples of Eastern tradition in Italy. Regarding its origin we have little information (perhaps it dates back to the 8th century AD), but we know with certainty that in the 19th century Ferdinando Pancitichi Ximens of Aragon restructured it, giving it this oriental aspect. Surrounded also by a huge park full of botanical varieties, its interior is filled with mosaics, typically Arabic geometric patterns, twisted arches and bright colors.
Reluctantly, we must inform you that at this moment the Sammezzano castle can't be visited: after a period of neglect, in May last year it was sold in an auction to an Arab company. However, a short time later, the Florence court annulled the sale, and it is rumored that the next buyer will be another Anglo-Italian company. If in the meantime If you want to give it a virtual look, you can click here; in the meantime we hope that soon this gem, soon, can be visited again!
–

Aragonese Castle of Ischia
It is located on a small island connected by a brick bridge to the eastern part of the island. The Aragonese Castle (institutional site), as well as being a splendid example of history, is certainly one of the oldest castles in our country: it was built in 474 BC in honor of Gerone, tyrant of Syracuse. It was used for a long time by the Ischisans as a shelter from pirate attacks. Its appearance, as we know it today, is due to Alfonso V of Aragon, who transformed its appearance in the 15th century. At the beginning of the 19th  century, up to the Unification of Italy, it was used as a prison.
Today this castle looks almost mythological: surrounded by churches, crypts and cemeteries, it is ideal to visit if you are lovers of mystery and religious places. If you go to Ischia, in addition to visiting one of the most beautiful castles in Italy, you must take a small tour in the beautiful island by following these tips.
Castello Sforzesco of Milan

It is one of the largest castles in Europe. Built in the 16th century by the will of Duke Francesco Sforza, it has become one of the most famous symbols of the Lombard capital. Until the Unification of Italy it had the mere function of military fortress and for centuries it underwent considerable transformations, the most important ones realized after the bombardments of the Second World War that had partially destroyed it.
Today it is open to visitors and open to the public (institutional website), and is easily accessible, as it is located in the center of Milan; surely you will remain breathless in front of its vastness and majesty. Castello Sforzesco is not only one of the most beautiful castles in Italy, but is also one of the most important: in fact, inside it you can find works by notable Italian artists, such as Michelangelo, Leonardo Da Vinci and Mantegna.
–


Castel Sant'Angelo di Roma

Symbol of the city of Rome, Castel Sant'Angelo (institutional site) is a charming place, worthy of the Caput Mundi. It is also very ancient: it was wanted by Hadrian as his mausoleum in 125 AD. In 403, and with the Emperor Honorius, it lost his funeral function and became a defensive castle in all respects. Very famous are its prisons, which can still be visited today, in which Giordano Bruno was also imprisoned. Its appearance changed over the centuries, especially at the hands of many popes and it is no coincidence that the castle is connected to the Vatican City from the passetto, a secret corridor that many popes used to escape attacks of any kind.

Today Castel Sant'Angelo is used as a museum and can be visited at any time of the year. It is not only one of the most beautiful castles in Italy, but it is also a strategic point to best enjoy the Roman panorama  from its terrace you can admire the whole Capital in its beauty, especially at night!

 

–
Francesca Celani

READ ME IN

Italiano