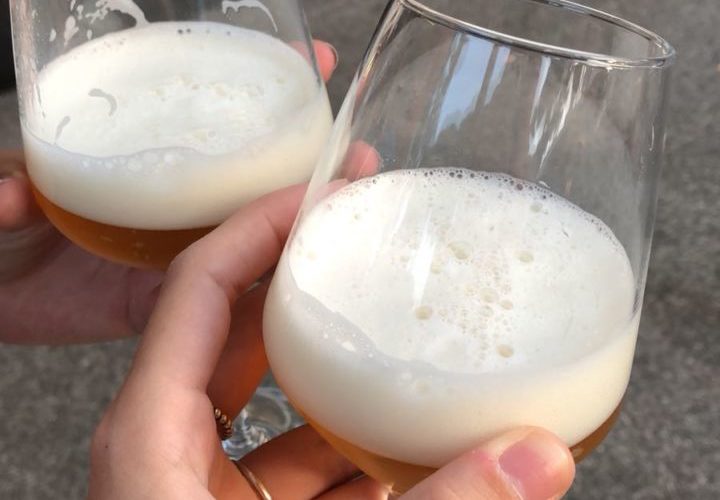 04 July 2018

•

Snap Italy
Birròforum: a summer festival for beer lovers and fun seekers
«Birròforum: a perfect way to spend a summer evening; great food, good beer, and an even better atmosphere»
After completing a tour of Roman street food, it only seems right that I survey its close relative, Italian craft beer. Birròforum is an annual summer festival that celebrates Italian craft beer, it hosts more than twenty vendors from all around Italy as well as several food vendors. I was fortunate enough to have the opportunity to visit Birròforum (official site) with my colleague Francesca , and we were able to enjoy this festival on a warm summer evening. Though beer is certainly not the first, or even the second or third, food or drink that comes to mind when I think of Italian cuisine, this festival proves that it certainly should be.
Birròforum was set up in a lot that was very close to the Tiber, lined with stands for both beer and food vendors. Perhaps my favorite part of this festival was that for many, it seemed to be a family event. Along with beer and food, Birròforum housed several stands that were home to vintage games, several ping pong and foosball tables, and even kick boxing. There was even a large section of the lot that was devoted to board games. Along with being family friendly, the Birròforum boasts that it is a pet friendly venue and many people brought along their dogs to enjoy the evening. Beer, fried food, and dogs. All this, along with live music, made for the perfect summer evening.
When we arrived at the festival, we were given our own tasting glasses as well as a pouch that goes around our neck to hold to glass. We paid for three different tastings of beers. As a beer novice, I stuck to three lighter beers, from Le Birre Oxiana, Birra Losa, and I Beer. I won't pretend to be an expert, but what I can say is that each was delicious, especially when paired with street food.
At Birròforum, it was easy to see that many vendors went above and beyond to try and stand out to visitors, not only in how their beer tastes but also in how they presented their stands. There was certainly a visual design aspect to this festival. My two favorite stands both went above and beyond in terms of design, one was built into an old fashioned baby blue truck and in the other, each tap handle was decorated with different toys such as a plastic T-Rex and a lightsaber. Good beer and a great visual aesthetic. For me, these two stands were the belles of the ball.
Though craft beer was the star of this festival, street food is certainly not to be forgotten. The food stands sold a host of fried foods that go with beer, including fried fish. We opted for a fried pizza and arancini. As a lover of fried food, I had never expected that fried pizza was a concept anywhere, let alone in Italy. As an American, when I heard the phrase "fried pizza" I was half expecting to see a pizza breaded and deep fried and was very relieved and excited by the sight of simple fried dough with pizza toppings. It went perfectly with the beer we were drinking and was definitely one of my favorite pizzas that I've eaten in Italy. Next we tried arancini in two different flavors, meat and tomato sauce and then pistachio flavored, they were absolutely delicious. These foods were also easily portable and we were able to enjoy a walk around the festival as we ate and finished our tastings.
Birròforum was a wonderful opportunity to see a side of Italian cuisine that I had never considered before. The Italian craft beer industry has proven to be one not to overlook. Birròforum was the perfect event for beer lovers and still offered a great time for those who don't care for beer. With its variety of beer and food, as well as a lively atmosphere featuring live music and games, this event truly offered something for everyone.
Alina Martinez