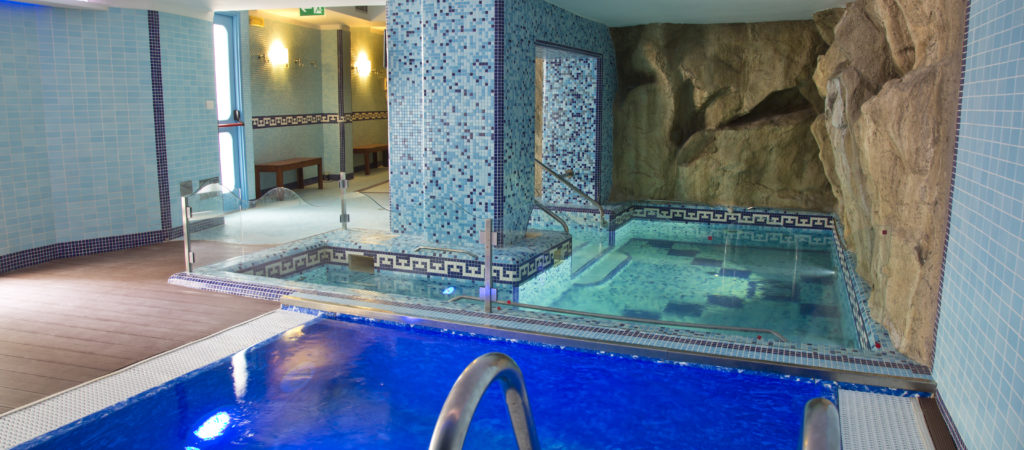 03 July 2018

•

Redazione
Best spas in Naples: where to relax in the most colorful city in Italy
READ ME IN

Italiano
«Is it possible to relax in the most cheerful city in Italy? Of course you can! Here are the 5 best spas in Naples, where you can embark on truly unique experiences.»
The capital of Campania is the city of culture, entertainment, fun, underground beauty, fun and music; but even when it's time to relax, it doesn't disappoint, and there are in fact many hotels with the best Spas in Naples, where you can stay and give yourself a real dream vacation. Because between one pizza and another, a trip to the San Severo Chapel, and another to Piazza del Plebiscito, a little relaxation really tis on the cards! Immersed in luxury, romance and those extraordinary colors that only the city of Naples can offer, these spa hotels in Naples will leave you breathless for their beauty and the quality of their services.
Here are the 5 best spa hotels in Naples, where you can take a break from the most entertaining city of Italy.
Hotel: We can not talk about the best Spas in Naples without starting from the magnificent Romeo Hotel. It's a fantastic five-star luxury hotel, housed in a building of the last century, but with a modern design, embellished with antiques, and with a beautiful undulating façade, all made of crystal. You will truly be speechless for the charm and beauty of the Romeo Hotel, located a few steps from the historic center of Naples. The rooms are decorated in a refined style, with luxury and style, and the bathrooms are made of marble, metal and ceramic. In a luxury hotel like this you could not miss a Michelin starred restaurant: the Comandante Restaurant, which will offer you a gourmet dinner in a multi-sensory experience, while you will be directly on the enchanting Gulf of Naples.
Spa: Romeo Wellness – Dogana del Sale is a unique Spa, of 1,000 square meters, which best embodies the fusion between past, design, future and technology. Vaulted ceilings, volcanic rock foundations, and brick façades have been preserved, but enriched by state-of-the-art lighting systems, water features, and unique equipment. Emotional showers, frigidarium and a salt room are just some of the services offered. Immersed in a soft light, between games of color and a dreamlike atmosphere, the La Dogana del Sale wellness center will make you relax fully, helping you to regain contact with yourself, and to give you the care you deserve.
Hotel: Second on our list of the best spas in Naples is this beautiful hotel and spa, located in the wonderful town of Castellammare di Stabia, between the Gulf of Naples and the Sorrento peninsula. Risen from a reconversion of what was an old industrial factory, it has a strategic position but above all a magnificent view of the gulf, which will give you incredible emotions. The rooms are elegant, warm, welcoming and equipped with every comfort, among which the Vertigo Suite stands out, a beautiful room, with a whirlpool tub with glass skylight, located at the highest point of the hotel where the two towers of the structure are joined. The Goauche Risorante will delight your palate with Mediterranean flavors enriched by so much creativity, in a truly unique, intimate and peaceful atmosphere.
Spa: The Spa of the Towers Hotel is a real wellness refuge, where you will find a wide variety of services offered: 12 beauty cabins, herbal teas, relaxation area, solarium, sauna, turkish bath, balneo baths, a cold cave and many more. It is truly the ideal place to get rid of everyday tensions, especially in the balneo pools, where steam, a massaging sea water and a shiatsu water treatment will make you rediscover your inner peace. In this Spa in Naples much thought is given two couples, thanks to the offer  For Him & For Her, where you can both relax among the soft lights of the candles and an intimate atmosphere.
Hotel: On the Neapolitan promenade stands the Grand Hotel Vesuvio, one of the best spa hotels in Naples, which has been the most loved by celebrities from around the world for about 130 years. Attention to detail, attention to hospitality, historical richness and sophisticated style are the main features of this 5-star luxury property. The Grand Hotel Vesuvio has 160 rooms, 21 of which are magnificent suites furnished with elegance and luxury, and each room has linen sheets. The bar on the ground floor, the Vesuvietta, will allow you to enjoy the typical Neapolitan pastries every day from 9.00 to 23.00. There is also a magnificent restaurant in the roof garden, with a splendid panorama, named after Enrico Caruso, the most loyal customer of the Grand Hotel Vesuvio.
Spa: L'Echia is the wellness center of the Grand Hotel Vesuvio, an extraordinary and precious jewel composed of marbles, crystals, mosaics, rocks and water, which will cure your body and, above all, your soul. Here you will find a wonderful indoor swimming pool, turkish bath, sauna, jacuzzi and a cardio fitness gym. The name derives from Mount Echia, behind the hotel, from where, according to legend, the siren Parthenope threw herself for not being able to charm Odysseus. Let yourself be lulled by the legend and the magical atmosphere of these places.
Hotel: Next on our list of the best spas in Naples is the one at the Hotel San Francesco al Monte. Housed in a 16th century monastery, of which fragments of frescoes and ancient majolica are still preserved in every corner of the structure, the hotel has 45 rooms, which were once the ancient cells where the monks would reside, and which have been expertly restored today. Decorated in soft colors, there are 4 types of rooms: classic, superior, junior suite and the splendid classic terrace, with a private terrace, bath and hydromassage showers. The surprise is on the seventh floor: here you will find a terrace with a magnificent roof garden and a swimming pool. A fantastic panorama, from which you can admire the Gulf of Naples, the Vesuvius and Capri. There are many bars and two restaurants, among which La Terrazza dei Barbanti stands out for its beauty.
Spa: Antica Essenza is one of the best spas in Naples. Here your stay will become truly unforgettable: therapists and specialized professionals will dedicate themselves to you for any type of treatment, with aromatic essences and natural oils. But there is a very special service, namely the wine treatments: baths in red wine barrels, face masks with wine, yogurt and honey, are waiting for you to fully relax, with one of the best products of our lands. There are also many services for couples: in one of the best spas in Naples like this you can find a unique and extraordinary atmosphere. In the brochure you will find the most suitable services for you.
Hotel: The Hotel Villa Luisa Resort rises in the marvelous locality of Pozzuoli, in a strategic point and ideal for visiting the whole surrounding area. Romantic and intimate, this property features 37 comfortable and tastefully furnished rooms where you can fully relax; The Family Rooms are very charming, furnished in Mediterranean style, but in this Naples spa hotel you can also stay in nice apartments, with a panoramic view of the Gulf of Pozzuoli and the Island of Capri.
Spa: The wellness center is located inside the structure, and makes Hotel Villa Luisa the ideal destination to relax between beauty and relaxation: the blue mosaics, the smooth lines of the rocks and a starry sky will help you to regain contact with yourself and look for your inner peace. There is a sauna, emotional showers, biosauna, hydromassage, Dead Sea salt baths and a Himalayan salt cave. What's more, Villa Luisa also has an agreement with a renowned spa and a bathing establishment a few hundred meters away. Surely one of the best spas in Naples.
Francesca Celani
READ ME IN

Italiano