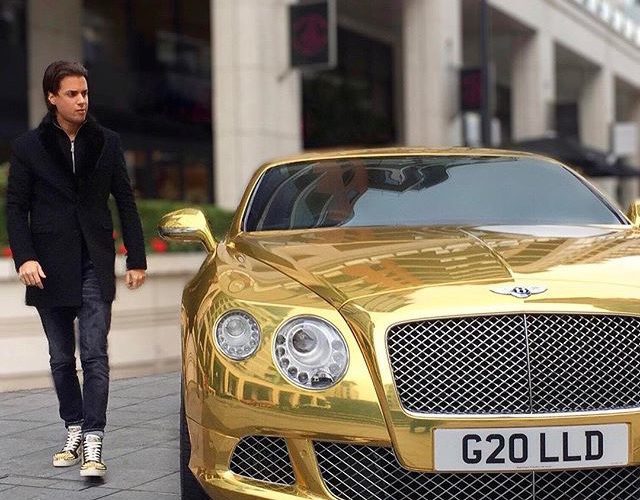 24 June 2018

•

Cecilia Gaudenzi
Italian VIP: ready for some gossip? Discover his most incredible vices
READ ME IN

Italiano
«Influencers, footballers, rich kids and more. Star life is a matter of luxury and attention to detail, whether it is ostentatious or shared. We have decided to let you in on some gossip, so let's find out what the most extravagant vices of Italian VIP are. »
Fast and personalized machines, haircuts so chic to be worth a trip to the other side of the world, houses with unique pieces of furniture, diamonds set in the skin. They are not my fantasies, or rather, not only. These are true vices that only those who lead a star life can afford. And it does not end here, because the needs and whims of stars are well known, they are many and they must be satisfied. There are so many Italian VIP to be able to enjoy a certain standard of living, take a look at just a few photos on social networks to realize it: holidays in distant and exotic destinations, private jets, collections of clothes and shoes, precious jewels and exclusive parties. It doesn't matter whether they post photos to flaunt or just to share, their life as a star intrigues us all and we like it!
La Terrazza sul mare by Gianluca Vacchi
The first Italian VIP on our gossip list is Gianluca Vacchi. Una Vita in Vacanza is the title of the song of Lo Stato Sociale but it is a moment that turns into reality, especially if you have a wonderful yacht like Gianluca Vacchi. Better known as Mr. Enjoy, the Italian entrepreneur lover of luxury and the good life, last summer got a dream boat to make the most out of the sun season and not miss a single ray. Also known as " Terrazza sul mare " or " Genius of the lamp ", this all-wood, hi-tech and fiesta jewel has allowed Vacchi to get a tan and enjoy life as a social star.
Lullaby by Casa Briatore
We keep going with our gossip and remain on the subject of boats. It seems that Nathan Falco, the son of Flavio Briatore and Elisabetta Gregoraci, used to spend long vacations on a boat as a child, so much so that he is soothed by the waves and can not fall asleep easily on land.
Cars … military!
We come now to luxury cars, very expensive and fast. Who hasn't dreamed of one even just for a ride? Italian VIPs have a real passion for cars that satisfy theirs whims with their highly expensive bills, so as to even customize them. The flaming red Ferrari is a must, a symbol. Too common for some, so better yellow, black or blue? The answer is still negative. Someone, in fact, as Lapo Elkann, has decided to request a personalized camouflage. Bold, but he is not the only one. Even Mario Balotelli is a lover of the texture, so as to cover his Bentley Continental with a camouflage vinyl casing. Giovanni Santoro, on the other hand, preferred gold with which to cover his Bentley 6000. But the best gossip is about to come… The young football attorney lives his life as a star in London with his girlfriend Gala, who owns hundreds of pairs of shoes and a little dog Tiffany, who has never eaten dog food because the chef who every day cooks delicious dishes for his masters also feeds delicacies to the dog, which she tastes comfortably seated at the table. A bit crazy, you may think? No, it's just Italian VIPs!
6 zeros gifts
The next Italian VIP on our gossip list is Alberto Franceschi, who received a customized Maserati as a graduation gift. Was it enough? Nope, too anonymous. The boy who loves velvet decided to cover the car with this precious and strictly black fabric. Even Federico Bellezza received a car for his graduation, a Porsche, but his true passion is for watches, preferably Rolex, which he likes to match to his rigorously tailored clothes. No car for Tommaso Zorzi, who received an apartment at the Bosco Verticale in Milan, awarded as "the most beautiful and innovative skyscraper in the world"». The young entrepreneur lives for fashion, often changes his look and loves to take care of his gorgeous hair. For the best keratine, applied by the best hairdresser in the best salon, Tommaso flew to Rio in Brazil in two days.
Electric Life
Our gossip becomes sparkly with our next Italian VIP. IN fact it's a sparkling life that of stars with spectacular wealth. Elettra Miura Lamborghini is one of the most famous and talked about inheritors of the moment. Yes, Lamborghini like the famous extra-luxury car. The girl is the reality TV queen, a lover of horses and equitation, and of all that is leopard print or sparkly. We heard her sing with Sfera Ebbasta and Guè Pequeno in the single Lamborghini RMX and then as a soloist in her hit Pem Pem. Even though her appearance ranges between the roar and the aggressive, Elettra does not spare smiles and is a very funny girl. She does have a flaw, however, that she gets bored quickly. That's why every now and again she has to change all of her piercings, about forty scattered throughout the body. She gets bored of seeing the same ones on her body so she has fun choosing different precious stones for them.
Yatchs, cars, diamonds but also video games! Staying young is always important, if you it with style. Francesco Facchinetti knows something about this. In his home in Mariano Comense he has dedicated a whole room to videogames, one of his passions. The room of wonders is furnished in a modern style and has eight stations that he collected during his travels around the world. Even Fedez appreciates the genre, and in fact for his 27th birthday his girlfriend Chiara Ferragni  gave him a gaming console complete with a vintage pink and blue guns.
Dog's life
Gossip today is not only for the Italian VIP, but also for their four-legged friends, lead a star life. For them they will do anything. Designer dresses for every occasion, bowls made of precious materials, diamond collars, prams and imperial kennels. Then you also have to think about sport and relaxation, so they go to the gym for dogs, they get them manicures and pedicures, so as to always be in order! Audrey is Donatella Versace's jack russel, and is among the lucky little dogs to enjoy luxury and special treatments. Audrey also has her own Instagram profile and just like in the photos of her fellow human influencers, we see her eating at elegant tables, laying between bags and resting between soft cushions or on the sea bed.
Cecilia Gaudenzi
READ ME IN

Italiano