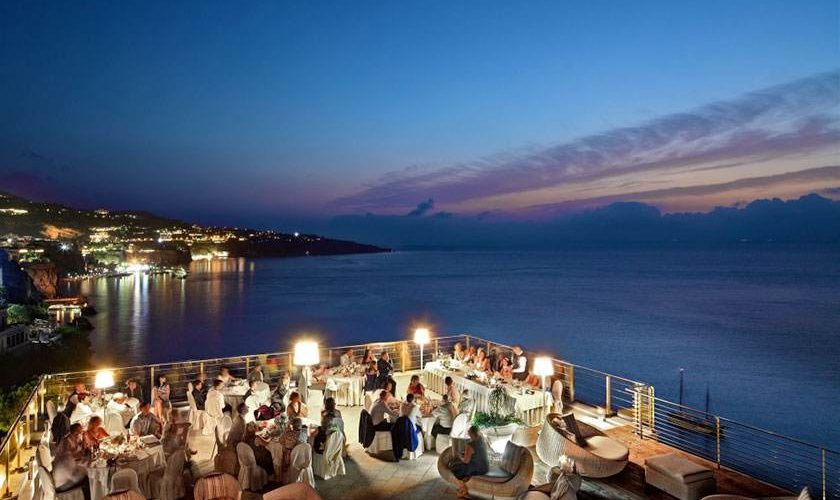 30 June 2018

•

Snap Italy
Things to do in Sorrento: a city of fine food and superb views
«Things to do in Sorrento: Headed down south? Sorrento offers an endless amount of adventures, panoramic views, and places to relax. Here are four places to add you your itinerary»
Ask anyone about destinations to visit in southern Italy and you are likely to hear about Capri, Positano,and Amalfi. Though the cities on the Amalfi coast are beautiful, many people tend overlook all that the bay of Naples has to offer, more specifically, Sorrento. Sorrento offers travelers a delightful destination with fantastic food and views without the prices or crowds of the Amalfi coast. There are a ton of things to do in Sorrento, and its views alone make it worth adding to your trip itinerary. Here are the best things to do in Sorrento:
Visit Piazza Tasso
Piazza Tasso is the heart of Sorrento and you can access all that Sorrento has to offer from it's convenient location. Lined with stores and cafes, there is something for everyone at Piazza Tasso. In the daytime, Piazza Tasso offers visitors quaint cafes and restaurants with outdoor seating where one can appreciate the bustling piazza. At night time, the atmosphere changes and it offers bars, dancing, and live music to those who want a taste of Sorrento's night life. In the piazza are also steps that lead down to the waterfront, this too is lined with restaurants, bars, and cafes, and offers beautiful views of the water..
If you're looking for an interesting way to see all that Sorrento has to offer, there are train tours that depart from Piazza Tasso. It is only 6 euro for adults and it offers stops at historical landmarks, panoramic views of the city, and the port of Sorrento; it's a great way to enjoy the city in the shade during the summer months. This leisurely ride through Sorrento is a perfect way to relax while taking in Sorrento's views and is a great option for anyone traveling with kids or elderly people.
Head to the rooftops
One of the best things to do in Sorrento is to take advantage of the plentiful views. The best way to do so? Dinner or drinks on a rooftop. You'll  have a fairly easy time finding restaurants and bars with terrace seating. An easy way to find a nice terrace is to head to any of the luxury hotels in Sorrento, such as the Hotel Cristina, Hotel Minerva, or the fantastic Sky View Bar at Hotel Mediterraneo. If you are lucky enough to stay at a hotel that has its own bar and restaurant, be sure to take advantage of it! Another option besides rooftops that are an equally beautiful way to enjoy the coast is to take to the "beach side" restaurants. Though Sorrento lacks long sandy beaches, there are plenty of platforms built into the water on which you can enjoy the view of the coast. Enjoying seafood next to the sea along with the view of Vesuvius is a truly special experience, particularly at sunset.
Take a stroll through Villa Comunale
Villa Comunale is the largest public park in Sorrento. Located on top of a cliff, Villa Comunale boasts some of Sorrento's best views of the shore and Vesuvius, so be sure to bring a camera. Filled with gorgeous flower beds and statues, Villa Comunale is also right above the two main ports and beach so it also offers a picture perfect view and a great spot for people watching. For those who want to avoid the steep stairs down to the port, Villa Comunale also is equipped with elevators for 1 euro that can bring you to sea level. It's the ideal location for a leisurely stroll.
Splash around I Bagni della Regina Giovanna
I Bagni della Regina Giovanna take their name from Queen Giovanna d'Angiò of Naples who lived in the 1300s, the spot is where she would allegedly meet up with her lovers. Hundreds of years later, these ruins are still fit for a queen. A 45 minute hike from Piazza Tasso, these baths are somewhat difficult to get to but offer travelers a secluded oasis. I Bagni della Regina Giovanna offer travelers a host of activities to enjoy. For those who are less adventurous you can tan or bring a lunch and sit on the rocks and enjoy the view of the entire coast as well as Mount Vesuvius. There is also a swimming hole where you can take a relaxing dip in the crystal water, and then swim through an arch out to the calm ocean. For those who are more adventurous, the cliffs offer a great spot to jump or dive off of, there are a variety of heights from around ten feet to thirty feet.
Whether you're young or old, interested in adventuring or relaxing, Sorrento has something to offer everyone.
Alina Martinez