20 June 2018

•

Snap Italy
Snow Volley Tour 2018, when the volley is tinged with white
READ ME IN

Italiano
«After the great success of the last edition, the Snow Volley Tour 2018 is back to continue to surprise all fans of volleyball and not. Let's find out together all the curiosities related to the event».
A net, a volleyball ball, lots of snow and just as much desire to get involved. These are the basic ingredients of the Snow Volley Tour 2018 (sito ufficiale), which this year reaches its second edition after the undisputed success of the past one. The Italian tournament started with the first stage in Sestriere (TO), held on 7-10th December, and counts more and more members. Despite the originality of the discipline and the few facilities made available, there have been many adhesions.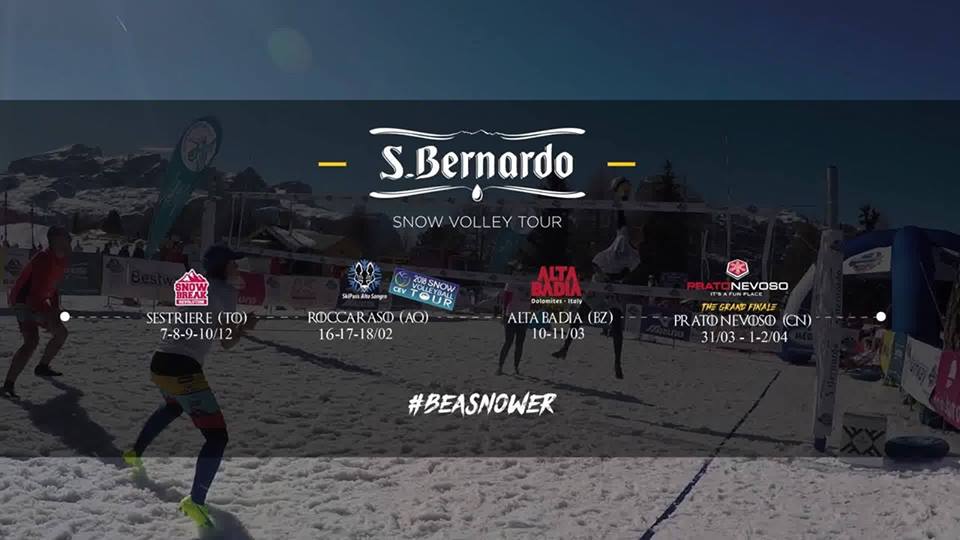 From the Alps to the Apennines. Yes, the Snow Volley Tour 2018 will move from Sestriere to Roccaraso (AQ), with the aim of reaching as many people as possible even in central Italy. The particularity and perhaps the most important aspect of the tour is the fact that in Aquila (16-18th February) there will also be an official stage of the Snow Volleyball European Tour, the third international tournament organized by the Confédération Européenne de Volleyball (CEV). Thanks to this collaboration, we will see some good ones, because on the snowy fields you will have the opportunity to see the European champions and champions of this discipline at work.
We could define Snow Volley as the winter version of Beach Volley. In fact it may seem strange but the substantial difference between the two disciplines is only the playing field, that in the first case is on sand while in the second on snow, otherwise the rules in force are the same as the beach volleyball, or those issued by the Federation Volleyball International (FIVB).
Snow Volley, a discipline born in Russia in 2006 as a traditional Christmas event, has been a formidable success, conquering the hearts of many. To be interested in this phenomenon was the Austrian Volleyball Federation which in 2011 recognized Snow Volley as an official sport, and from there the first European championship took place in the first quarter of 2016.
The Snow Volley Tour 2018 is open to everyone. The event, in fact, in addition to providing the classic male and female 2 × 2 teams, will organize open tournaments also to mixed couples 2 × 2 and 4 × 4. Even non-professionals will have the opportunity to participate and have fun. Yes, because the goal is also and above all that of creating a moment of aggregation by promoting a sport that is fun and highly ethical.
On Snow Volley Italia you can find all the updates. What are you waiting for? See you on the playgrounds!
Photo: https://www.facebook.com/SnowVolleyItalia/
Elisa Malomo
READ ME IN

Italiano