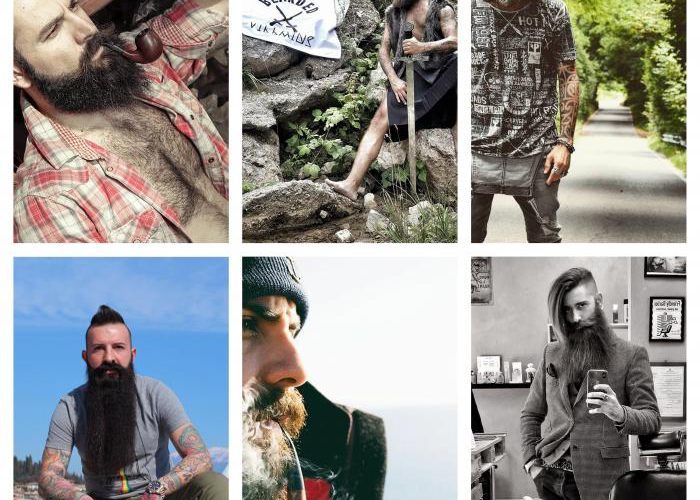 22 June 2018

•

Anita Atzori
Italian models: beards, style and success
READ ME IN

Italiano
«What do you want more from life? A beard. Discovering the most popular Italian models of the moment.»
Halfway between a lumberjack and a Viking, the bearded and super-tattooed man seems to have conquered not only the hearts of women but also the world of fashion and lifestyle. Boys who are different from the prototype of a high canonical model, thin and well-groomed, but men with a stocky chest, where tattoos tell stories and sometimes dramas; casual wear with a touch of rock, which obviously never hurts. And then there's her… the beard! The undisputed return of an element that has often been despised, underestimated and considered antagonistic to simple and orderly beauty. Beard thus returns with her extravagant forms, with the softness of who cares almost like a daughter, and with the style that has always distinguished many of the most beautiful men in the world. These are just some of the traits that characterize them, the hottest and most peculiar Italian models of the last few years. Guys have become famous on the catwalks, and others considered well-known in the social world thanks to their photos that have spread around the world in no time.
It is easy to find them on Instagram, not only because of their consolidated popularity, but also because there are real pages dedicated to the "bearded man", an example? Bearded Villains Europe, a profile that in Italy boasts many followers and that presents many men and boys with an alternative and refined style to the public, but only on one condition: that they have a beard! Despite this community, which everyone calls Brotherhood, was born in Los Angeles in 2014, even in Italy it has formed an official chapter, which in a short time has conquered not only the young beard lovers, but also the fashion world, that it keeps as a reference point for selections and scouting activities. Bearded Villains Italy is also charity, creativity and sharing, therefore all members not only they don't exhibit extreme lifestyles from a political, sexual and religious point of view, but they also participate in international conferences and meetings to promote values ​​such as family, respect and, of course, love for the beard. To be able to access the selections and become a member the basic requirement is to have a beard at least 4cm long and a philosophy of life inclined to the company of others. In this community it is easy to find and recognize many of the most appreciated Italian models and followed by the Italian social audience. We here present you some.
The first making it onto our chart of the trendiest Italian models is a 32 year old from Brescia, who was the winner of the Barba Dell'Anno competition in 2016. For him, the beard is not a matter of trends, but of lifestyle. Diego cultivates a lot of passions, like that for the radio that sees him protagonist every first Saturday of the month at the Radio Vera station. A very well groomed looked, that of a man who is no longer a boy, but is instead at the height of his adulthood. A thirty year old who knows what he wants from life and who fights to get it. A member of the historic Italian beard and mustache club, Fratelli Locatelli, Diego Bazoli is a fierce supporter of the bearded world, so much so as to take part not only in Italian competitions, but also in international competitions. The other big passion is without a doubt the tattoos, of which he has many and all different. Japanese, Mahori and Old School are the cherries on top of a unique profile, different from usual and for this reason a man to be considered one of the best Italian models around.
Marco is also very young and is a member of Bearded Villains. Very followed on Instagram, he is the image of the man of the past, with unmistakable style, tattoos on sight, but with that retro touch that almost resembles the old clubs of the '20 crowded by young men with a cigar in their mouth and holding a glass of grappa. Ethereal charm and unrivaled beard love. He believes in family values, respect and humility. Starting to follow him would be a good idea.
https://www.instagram.com/p/BeIOp2bBFnz/?taken-by=instamarcoserafini
Born in 1982 in Milan, he is now a well-established bearded man. Blonde, blue eyes and striking style. Yes, because Walter is not the classic man dedicated to the image and appearance, he is one of those who in life has been shielded not with a beard but with force. He loves tattoos and tattooing, but above all he loves his son. A member of the Bearded Villains, he is one of the most loved and appreciated Italian models by the new generations.
Classic Piedmontese type. Typical dark, tall, thin and well-groomed charm on each side. Half-shaved hair and vaguely resembling the intellectuals of the past who loved literary cafes, books and well aged bitters. Riccardo's style is halfway between the classic dusty vintage and the urban street, a bit rock and a bit hipster. He loves cooking, art and boundless landscapes. He would do without anything but his beard. He is not just a city boy but one of the most sought-after Italian models in the barber-shop scene and industry events.
Pietro is one who loves fashion, music and tattoos. Not a boy but a man, proud of his years and his beard, which is also a reflection of his life. Inspired by Salomons Beard for some time now, his style certainly does not go unnoticed. It's peculiar: one day you see him with a sleeveless jeans jacket, and the next day he shows up with his beloved furs and spotted jackets. You do not know what to expect from him, and maybe that's the beauty. They all love him and his outfits are now a point of reference for fashion addicts. You'd be crazy not to follow him on Instagram. He could easily be placed among the kings of Italian models, and we at Snap Italy are absolutely convinced of this. If we have intrigued you, here is our interview.
Strictly Made in Sardinia. He is an official member of Bearded Villains and an unconditional lover of his land and his sea. Originally from Sant' Antioco, he took a beard as a way of life. He loves good food, tattoos and his son more than anything else. Among the Italian models, Luca is one of the emerging ones, but it is thought that he can climb very high peaks considering the number of followers that increases more and more day after day.
https://www.instagram.com/p/Bfbf0dKluj-/?taken-by=real.lully
Very Roman, and proud of being so. A combative spirit, determined and not at all obvious. An official member of Bearded Villains and an ambassador for Salomons Beard. He knew how to combine the beard world with the fashion world in such a simple way that it has now become a trend. With his brand Faber Smith he produces casual and captivating t-shirts, the recurrent motif of each is the beard, but the wearability and comfort of these garments is the ideal incentive for those who want a personal, but at the same time basic, style. On Instagram everyone loves him and young people consider him among the most creative Italian models of the moment.
Anita Atzori
READ ME IN

Italiano