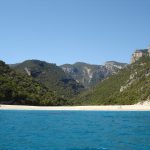 22 June 2018

•

Snap Italy
Trekking in Sardinia: Selvaggio Blu, Sardinia's most extreme adventure
READ ME IN

Italiano
«Selvaggio Blu ("Blue Wild") is considered the most difficult trekking in Sardinia and in Italy, a long itinerary consisting of rappels and climbing sections»
Selvaggio Blu (web site), today, is the best for those who love the mountains, or for those looking for an adventure and need to escape for a few days. More specifically, it was created twenty years ago by the ambitious idea of ​​two friends, who wanted to join the paths of the Supramonte, creating a route that started from Pedra Longa to Cala Sisine. After their idea the concept of trekking in Sardinia has not been the same
The latter is an itinerary that has become very famous at present, repeatedly proposed by agencies, national and international guides. Obviously, being a rather famous route because of its difficulty, we suggest you undertake this "trip" in Sardinia with an expert guide. But let's not waste any more time: in seven unmissable stages, here's what the Blue Selvaggio has in store for you.
First Stage
From Pedra Longa to Cuile De us piggius, the Blue Wild itinerary begins with a deliberately narrow route, around three hours but with 625 meters in altitude; in any case, at least in this initial part, the technical difficulties are reduced to a minimum. Possibly linked to the next stage, especially if you leave early in the morning and if you are already in good physical shape, if you want you can start directly from the town of Santa Maria Navarrese, adding an hour and a half walk on an easy path.
Second Stage
From Cuile De us piggius to Portu Cuau, is not particularly demanding stage, if not for some orientation difficulties that can be encountered around the central part of the day (Punta Ginnircu). It's 210 meters in altitude and uphill, for about six hours of walking.
Third Stage
From Porto Cuau to Cala Goloritzè, the Selvaggio Blu continues with a long 8 hour stage, with an uphill gradient that starts to be felt (565 meters). However, apart from the orientation on paths that are not always very clear, however, there are no major technical difficulties.
Fourth Stage
From Cala Goloritzè to Bacu Mudaloru. This is certainly the most challenging stage of the Selvaggio Blu, which, in fact, includes the largest number of "surrenders" to the path. The start proves to be tough right from the start, especially because of some short climbing passes followed by a steep uphill gradient. In the second part of the stage, on the other hand, you will have to start using the rope for double descents. A total of 588 meters for a stage that normally lasts for no less than 6 hours.
Fifth Stage
From Bacu Mudaloru to Cuile Piddi (Mancosu). Stage of partial recovery, which begins however with a decent climb into the rock and that, in 5 hours, grinds its good 400 meters in altitude, meeting climbing and rappelling. 
Sixth Stage
From Cuile Piddi (Mancosu) to Cala Sisine. Known simply as "The stage of the woods", since the Cuile Piddi crosses the great woods of Biriola, Orronnoro and Sisine. The cove, almost a finish line, can be reached in 5/6 hours of walking, interrupted by numerous descents in double rope, up to 45 meters high and with some exposed climbs, even if these are now protected by safety chains. 
Seventh Stage
From Cala Sisine to Cala Luna and Cala Fuili. It's the last stop on the route "Selvaggio blu", without obvious difficulties and technical steps but, with its 5 dignified hours of walking, adds 825 meters of height gain to the already tired legs. Cala Fuili is 3.5 kilometers of asphalt road from the town of Cala Gonone. The route from Cala Sisine to Cala Luna has seen, in recent years, the opening of a variant, highly recommended, which is held closer to the coast than the original route.
There are also other less demanding and daily treks that will allow you to enjoy all the wonders of the area. The most popular trekking is the one that leads to Cala Goloritzè starting from the Golgo plateau. The outward journey lasts about an hour and 30 minutes, while the return is definitely more tiring, as it's all uphill. The cala trekking is well signposted and there is no need for a guide. Before concluding, even the trek to Pedra Longa or the super panorama to Cala Luna through an old mule track deserve a mention. Once you arrive here your trekking in Sardinia can be considered concluded
Are you ready for the most tiring and fascinating trekking in Sardinia?
Argia Renda
READ ME IN

Italiano