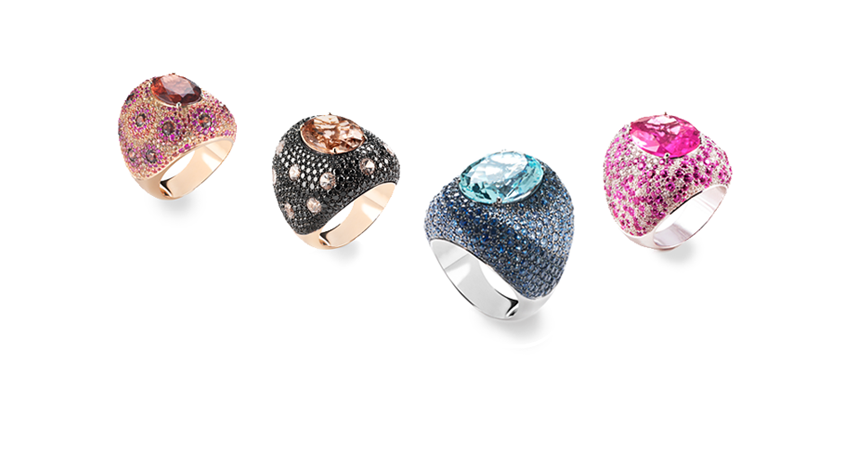 03 July 2018

•

Anita Atzori
Italian jewelry handcrafted: the most appreciated Made in Italy brands
READ ME IN

Italiano
«Handcrafted Italian jewelry is one of the best Made in Italy excellences, more elegant and precious than ever. Discover with us the Made in Italy brands that are the most appreciated by the Italian public.»
Whether tied to tradition or projected towards the future, Italian jewelry is one of the most precious excellences of the Made in Italy world. It is something that links past and future through techniques and mastery of the best professionals, handed down to new generations with courses of the highest level and professional experience in the best laboratories in Italy. Some time ago we talked about the most famous Italian companies in the world in the production of diamonds and luxury jewels, but today we will talk about the artisan jewels and those who have made the trade a real brand identity at the national level, and not only. A selection of brands and companies which are strong in their sector, and which have never forgotten their origins and old craftsmanship, even though they then experimented with new production technologies; a lethal mix that has left VIPs and ordinary people open-mouthed. Because you know, Italian jewelry makes anyone elegant.
With Tito and Fabrizio Negri ahead of it, this brand has been producing top quality artisanal Italian jewelry for over 40 years. It's been a long time since the first workshop was opened in via Campo Marzio, then enlarged with the sales point in Corso Trieste; yet here, the vibe of history and great beauty has never passed. The particularity of this company is its continuous uniting sculpture and jewelry in unique pieces and limited series, which keep in mind the customer in the most refined and exclusive way possible. They are timeless jewels, full of charm, each with its own characteristic that most of the time tends to delineate the personality of the wearer. Admire the necklaces, finely worked and enriched with precious stones that definitely don't go unnoticed.
Mattioli Gioielli has been strong since 1960, with a typical Made in Italy tradition that refers to the beautiful and inimitable Turin goldsmith's art. From the merging of the ingot to the finished piece, here every process is the result of a manufacturing process that makes the Mattioli craft jewels unique in their kind. The creations of this brand represent the most coveted customization of the jewel, able to combine, add or remove stones and unique elements according to the needs of the client, the context or the single whim. Because here nobody must ever be out of place! Thanks to the great success cultivated over the years, all these products are then finished in the best jewel boutiques spread all over the world. A fine example of Italian jewelry excellence.
Tuscan in the heart but an extremely free spirit nonetheless. He designed houses, furniture and design objects, but he knew his world would be that of jewels. He had already understood that the key to success was the union of two seemingly distant worlds but instead never as close as they are than now. The contemporaneity and the goldsmith craftsmanship have given the best results, putting in place a project of unique craft Italian jewelry. Giovanni Raspini's company is located in Valdichiana, halfway between Arezzo, Siena and Florence; inside, all the jewels of the brand come to life, from processing to finishing, each step is performed here, treating the jewel not as an object but as an integral part of the daily outfit. There is a subtle link between fashion and artisan jewelry that Giovanni Raspini has been able to capture in all its elegance, bringing silver to be a luxury material for the most refined women.
Many think that craft jewelry must necessarily be holed up in history and retro taste. And we could say no, because experimentation is the basis of every product here, and, to become modern, classicism mixes with the best hi-tech processing. Gems and precious stones are the basis and the support of a much broader project involving young designers and talented visionaries. YURIKO, in its Milan atelier, offers its customers exclusive pieces aimed at a cosmopolitan market attentive to tradition, but above all to the made in Italy production. So, if you also want to enter another dimension of Italian jewelry, this is the right place.
It was born as a small goldsmith's laboratory where craft jewels are a mix of distant worlds and a refined and wise traditional manufacture. Numerous journeys, constant study and enterprising spirit, are the focal points of a team dedicated to their work. Not common jewels but something more, where innovative materials such as ebony, leather, horn and natural resins become precious and timeless materials. A leap in quality made possible also thanks to the best goldsmith techniques from Arezzo and Naples, which have made the union of two methods of production that have not been explored until now possible. In each collection you will see an explosion of feelings, emotions and mystery told through details, decorations and natural stones. A truly great testimony to Italian jewelry that you cannot miss out on.
Sara Lubrano is not just another jeweler. In her beautiful Naples, she designs artisanal jewels that are not really jewels, but rather works of art. A process that only few people can do, makes these collections unique in their kind. Because here the wax is the valuable material with which all these wonders are created; through lime and meticulous work, the wax plates are heated by the flame of a spirit maker and transformed with the metal casting process. It is from here that the creation of a product begins, one that will present various irregularities as proof of a unique and limited manufacture. Yes, because this designer works her Italian jewelry with a philosophy of "only a few will own this piece", a symbol of exclusivity and irreproducible craftsmanship.
For over 10 years Angela Pintauro has been creating something absolutely unique and recognizable. Necklaces, earrings and bracelets are real design objects, where originality blends with fashion; add to this the use of silver, natural stones and freshwater pearls, which all become a work of inestimable value. Angela's artisan jewels smell of love, of passion for her work and of typical Made in Italy taste. Falling in love with them is really easy, especially because each collection represents a different style, a nuance that gives a touch of elegance and good taste that can hardly be copied.  What are you waiting for?
Anita Atzori
READ ME IN

Italiano