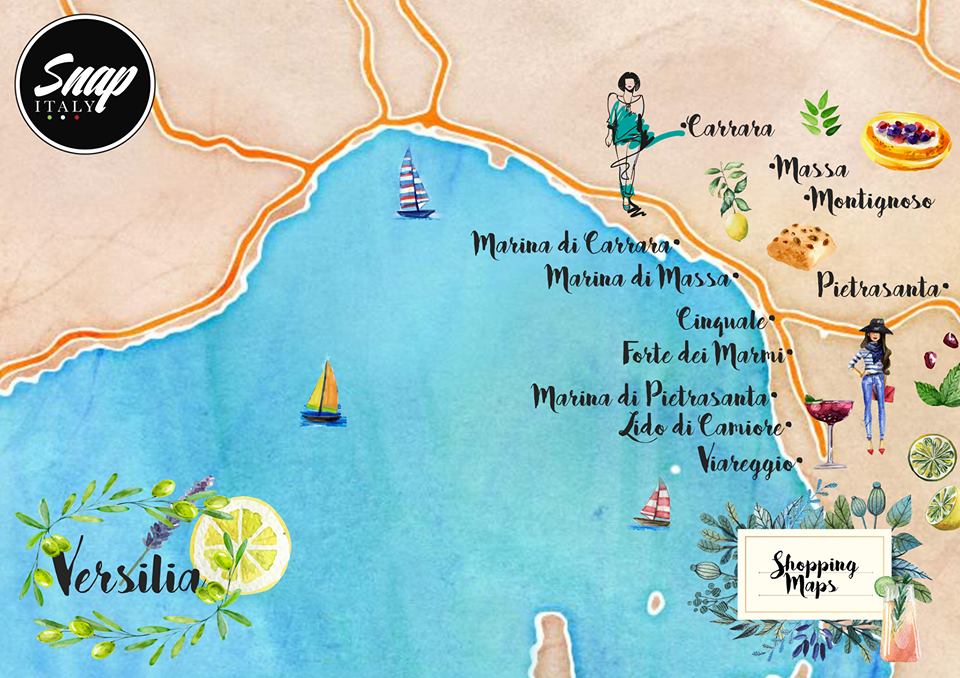 24 June 2018

•

Raffaella Celentano
Forte dei Marmi shopping guide: a trip down high fashion and craftsmanship
READ ME IN

Italiano
«We continue our summer shopping guide tour. Today we take you shopping in Versilia,  to discover one of the spearheads of the Italian summer. We present you the Forte dei Marmi shopping guide, so read on!»
This week our summer column Shopping Maps  (here you can find the first episode) has made you a Forte dei Marmi shopping guide, to discover countless luxury boutiques, craft workshops and flea markets, to discover one of the most popular destinations for holiday-goers from around the world.
Versilia is a summer evergreen  for Italians, a timeless classic that never goes out of fashion. Every year hordes of tourists, coming from all over Italy and the world, invade the Tuscan coasts to spend their holidays between sea, culture, good food, crafts and fashion. Yes, because between a swim in Forte dei Marmi, a walk in Pietrasanta and a dinner in Camaiore, many leave out a bit of space for shopping.
Versilia does not disappoint, and offers endless possibilities for shopping. From the most fashionable and prestigious boutiques, to the workshops of artisans from Tuscany, through vintage markets, shopping in Versilia will surprise you and will be able to satisfy the most demanding fashionistas.
Let's start from the ancient capital of Versilia, Pietrasanta. A few steps from the Cathedral we find Paolo Milani's atelier, a craftsman "with calluses", as he likes to define himself. It is one of the mandatory shopping stops in Versilia: here, in fact, for more than twenty years, both tailor-made and not clothes have been created for the most disparate customers, combining elegance and eccentricity, and creating truly unique creations.
We continue our tour and arrive at the Dada Concept Store, one of the most famous names in the whole of Versilia. Born from an idea by Isabella Francese, the store comes to life from the spirit of research towards new brands that allows an international woman to dress with taste and innovation. The items in the shop come from research collections developed in limited quantities, which guarantees the exclusivity of the items purchased.
We continue and arrive at another unmissable destination of our journey. We are talking about Zoe, a brand born in 1998 and arrived here in Pietrasanta in 2001. The purpose of the founders, Cristina Crespina and Monica Del Mancino, is to help women express their personality with style, taste and character. On the shelves of the boutique you will find famous names and  emerging brands, which you can mix according to your personal taste.
Let's move on to the core of our Forte dei Marmi shopping guide, where we talk about the most famous and popular shopping center in Versilia. Along Forte dei Marmi's main streets you will find boutiques of the big names in international fashion such as Prada, Cèline, Yves Saint Laurent, Dolce & Gabbana, Gucci and many others. The area between Piazza Garibaldi, Via Roma, Via Mazzini and Piazza Dante is the pulsating heart of the Fort. There are items of clothing, footwear, jewelry, food and wine products and crafts. In short, there is something for everyone!
If you love antiques, for example, you will find  the antiques market,  which takes place every second weekend of the month. Sifting through vintage items and antiques you can also do some real bargains. For craft lovers, however, we recommend taking a look at the boots at  Antonio l'Artigiano in Forte dei Marmi, a real must for shopping in Versilia. In Forte dei Marmi Since 1976, they manufacture their products by hand. Very comfortable and available in many different colors, these creations are strictly handmade, if you peek behind the counter of Antonio, in fact, you can get a glimpse of his laboratory.
Furthermore, for lovers of special accessories we would like to mention the Oberdan Jewelry Store. Here you will find some really unique jewels, totally made in Forte. These are pendants that have the shape of the typical beach cabins. Designed by Riccardo Castagnini from Forte dei Marmi, the pendants are available in white and yellow gold enameled in various colors, small or larger. A characteristic of the place is also the way of displaying the jewels: in the window a wooden mini-cabin is used, just like the one on the beach. Definitely a highlight of our Forte dei Marmi shopping guide.
Finally, you can not leave Versilia without taking a good Tuscan fragrance away with you. We would like to point out, therefore, the atelier  Profumi del Forte. Ideally referring to the long tradition of perfumery and Tuscan officinal art, the atelier makes choices of absolute quality, searching for only the best raw materials – selected with rigor and subjected to methods of craftsmanship – for its fragrances and dedicating great attention to style and packaging. After the launch of the Profumi del Forte collection in 2007, Enzo Torre's atelier  gave birth to another collection, Torre of Tuscany.
Another historical name for Versilia visitors is Fiacchini, which has two boutiques in both Viareggio and Forte dei Marmi. His proposals are contemporary, but also very exclusive: from the most fashionable collections of Italian and foreign brands  up to limited editions, such as that of  Chrissie Morris, who has created a pair of sandals just for Fiacchini.
Another name to be mentioned in Viareggio is that of  Silvia Bini, one of the leading names for luxury fashion in Versilia: the shining windows overlooking Viale Marconi are the mirror of the latest trends. Here you will find all the biggest names in Italian and international fashion, from Armani to Versace, passing through Valentino, Marco De Vincenzo, Tod's, Stella Jean and many others.
In short, Versilia is a favorite destination for holiday-gpers, Italians and foreigners, not only for the beautiful scenery or the nightlife of its most important places, but also for the wide choice of its fashion streets, which will give you truly unique experiences. Forte dei Marmi shopping guide ends here, but stay tuned for more news
Raffaella Celentano
READ ME IN

Italiano