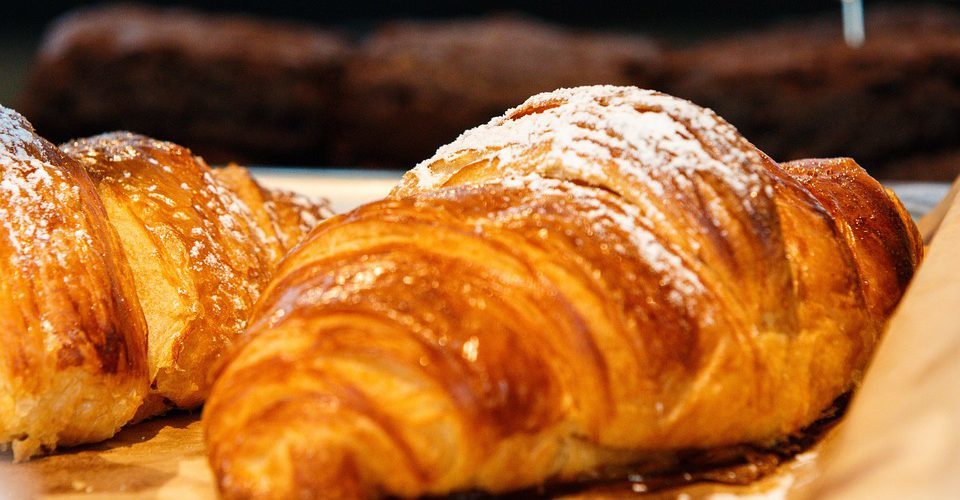 25 June 2018

•

Marcella Scialla
Italian breakfast: the best places to get cornetti, also at night!
READ ME IN

Italiano
«Before returning home after an evening out with locals and friends, eating a croissant at the crack of dawn (or – fort the more calm – in the evening or early in the morning) is a must. In any area of ​​the city you find yourself, there is a bakery ready to satisfy your night or early morning languor. Let's see where to find the best croissants, for a nice italian breakfast or for a night walk! »
After a night at the disco or around clubs, or even if you're looking to have a nice italian breakfast, hunger starts to be felt! A good croissant, warm, soft and with a rich filling is what you need before going to bed or when you've just woken up. However, the streets of the capital are endless and it is not easy to juggle cornetteries and various confectioneries, especially when – by now at dawn or late at night – sleep progresses and maybe that last drink has given us a little to the head. That's why we thought to collect here all the places where you can find the best croissants in Rome. In any corner of the city you find yourself, satisfying your night or early morning languor will no longer be a challenge!
Il Sorchettaro. Officially Pasticceria Lambiase, although this pastry shop is commonly known as Il Sorchettaro (and later we'll see why). Behind Porta Pia, in via Cernaia, is the reference point for croissants in Rome. Find a parking spot, line up on the steep stairs, get to the counter and find out why. Treats of all kinds: donuts, cornetti, bomboloni, pizzas … but the highlight that made this place a real institution for all the Roman night owls is the famous " sorchetta doppio schizzo: a sort of thin croissant covered with cream and splashes of nutella; a real delight for your palate. If you have not tried it yet, what are you waiting for?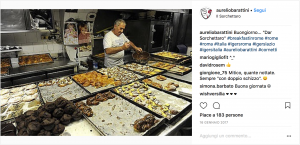 Alba dolce. A stone's throw from San Giovanni, in via Albalonga, this pastry shop that mainly supplies bars and bakeries, will surely satisfy your desire for cornetti in Rome. The assortment that you will find in this historic laboratory is in fact very vast: croissants with cream, pistachio, nutella, but also freshly baked puffs and donuts, to be chosen directly from the trays. Open all night, it's perfect for plugging in hunger holes before going to bed.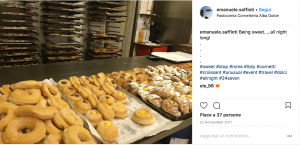 L'Antica Cornetteria Colosseo. This croissant shop in Via Labicana, a few meters from the Colosseum, produces delicacies of all kinds 24/7: croissants and huge bombs with a rich filling, but also donuts, mignon, pasta and maritozzi with cream. For the lovers of savory, however, pizzas are certainly not lacking. There is something for everyone.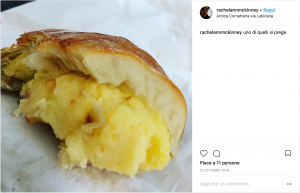 Dolce Luna. You will certainly end up spending an evening at Pigneto, one of the most fashionable neighborhoods of the capital as far as night clubs are concerned. Well, after a few drinks, going to bed on an empty stomach is certainly not advisable: a stop at the Dolce Luna bakery is a must! In this bakery it is indeed possible to find cornetti in Rome at all hours of the day and night, filled with delicious creams.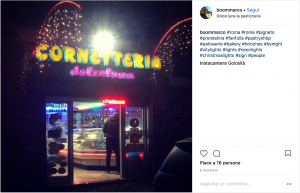 Dolce Maniera. In the Prati area – precisely in Via Barletta – there is the basement laboratory of this amazing pastry shop. The offer is really wide, able to satisfy every nighttime or early morning whim, from sweet to savory: pastas, donuts, bombs, pizzas, sandwiches and obviously fragrant croissants. You have jam, chocolate, cream, but also less traditional and more imaginative fillings. The quality of the ingredients used and the goodness of the products, make Dolce Maniera a cornerstone of cornetti in Rome, absolutely not to be missed for a great italian breakfast in Rome!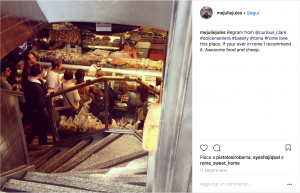 Romoli. Unbeatable cornetti, pastries and croissants. This historic bar in the African district is the meeting point of all those who want to end the evening in sweetness with soft and fragrant croissants, which are continually baked until late at night. In addition to classic croissants, a special mention goes to the buns, the Neapolitan brioches and the dumplings which taste of pineapple, pear and chocolate, coconut and many others. You just have to try them all!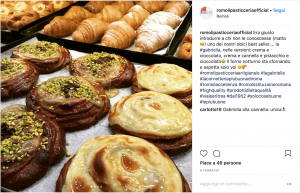 Te la do io la brioscia. Cornetti and bomboloni baked on the spot to be filled as you like: you can choose from more than twenty delicious creams! This bakery is the temple of gluttons in the Tuscolana area, which crowd this small oven not only for the croissants, but especially for the pangoccioli, a real specialty of the house, warm and soft, to garnish with delicious biscuits and chocolate bars. Also try the salty saccottini and all the other delicacies. Perfect for a night walk or italian breakfast in Rome!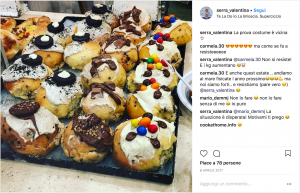 Il Cornettone. Marconi is another of those areas of the city studded with locals and crowded with young night owls. With its infinite assortments, the  point of reference for cornetti in Rome here is Il Cornettone, a place in Via Oderisi da Gubbio. The success of this bakery lies, in fact, in the variety of creams available, as well as in the opening hours. Sweets of all kinds and excellent quality croissants with a thousand possible fillings in good view in the window, attract all the greedy that crowd this place, especially at night. If you too, returning from an evening, are caught by hunger, you just have to arm yourself with patience and get in line. Or, if you're up early, you can go for a delicious italian breakfast! You will not regret it!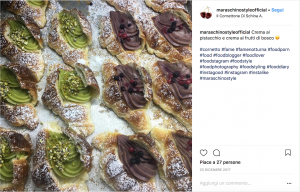 Marcella Scialla
READ ME IN

Italiano